In an article called "'Consequences will be dire': Chile's water crisis is reaching breaking point" by John Bartlett as reported in The Guardian, a long-lasting drought and water misuse have led to an alarming problem. The sad truth is the water crisis in Chile is not an isolated event. The following select paragraphs tell an important story. The full article can be linked to below.
"Unprecedented drought makes water a national security issue as more than half of Chile's 19 million population lived in area with 'severe water scarcity' by end of 2021.
From the Atacama Desert to Patagonia, a 13-year megadrought is straining Chile's freshwater resources to breaking point.
By the end of 2021, the fourth driest year on record, more than half of Chile's 19 million population lived in an area suffering from 'severe water scarcity', and in April an unprecedented water rationing plan was announced for the capital, Santiago.
In hundreds of rural communities in the centre and north of the country, Chileans are forced to rely on emergency tankers to deliver drinking water.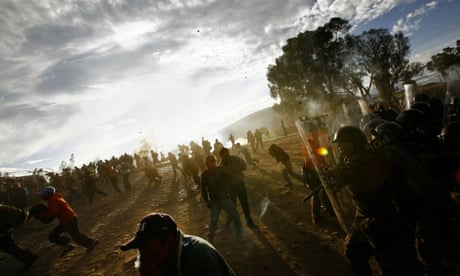 'Water has become a national security issue – it's that serious,' said Pablo García-Chevesich, a Chilean hydrologist working at the University of Arizona. 'It's the biggest problem facing the country economically, socially and environmentally. If we don't solve this, then water will be the cause of the next uprising.'……
'I used to supply all of the markets and communities in the area,' said Alfonso Ortíz, 73, a farmer who once employed several workers to grow watermelons, pumpkins, corn and oranges using water from the lagoon.
'Agriculture here is dead. There's nothing left,' he said.
Chile's economy, South America's largest by per-capita GDP, is built on water-intensive, extractivist industries principally mining, forestry and agriculture.
But its growth has come at a price.
Supported by the private rights system, about 59% of the country's water resources are dedicated to forestry, despite it making up just 3% of Chile's GDP.
Another 37% is destined for the agricultural sector, meaning only 2% of Chile's water is set aside for human consumption."
Re-read that last sentence. "2% of Chile's water is set for human consumption." While this is an extreme example it is not isolated. Going on for several years now, the number one long term crisis facing us as surveyed by the World Economic Forum is the global water crisis. Climate change impact was second as it actually makes the first problem worse.
For those that think it cannot happen here, farmers in the plains of the US are worried about water. There is a great book called "Rancher, Farmer, Fisherman" by Miriam Horn that shares these concerns. There is one town in Texas that is now dry because of fracking and drought. Other water supplies are getting more dear and fights over river and reservoir access have been going on. The Biscayne aquifer that provides water to Miami is being encroached on by rising sea levels coming through the porous limestone. And, that is before the issue of lead pipes comes into the equation.
What troubles me greatly is the lack of public debate over this concern. Cape Town, South Africa was so bad off it had a countdown to no water. It survived, but just barely. Yet, not a peep was discussed here. We are to busy talking about contrived and exaggerated issues to deal with real crises. One would think not having water to drink or irrigate crops would be a concern. One would think that climate change causing water reservoirs to dry up faster and cause longer droughts and forest fires would be a concern.
Let me leave you with this thought. I heard a spokesperson from one of the largest US utilities speak on climate change impact. This utility had a long-range report that said two very disturbing things. First, they have increased their model for expected evaporation of reservoir water due to climate change by 11%. If the water level is too low, it cannot be converted into steam to turn the turbines to create power. So, they cut the water flow to people to make up for it, as they manage the river.
Second, these long-range projections noted the river will not be able to support the water needs of the metropolitan population in about fifty years unless something is done. This troubling projection has gotten very little coverage in our newspapers or TV news. This is more concerning to me than BS like critical race theory or replacement theory which are the contrived and exaggerated issues of the day.
Steven Solomon, author of "Water" created a term that has been used by at least one utility executive. "Water is the new oil." If that does not scare you, note oil rich Saudi Arabia said it was OK to pray with sand rather than water. Why? They said Allah gave them a lot of oil, but little water.
https://www.theguardian.com/world/2022/jun/01/chiles-water-crisis-megadrought-reaching-breaking-point