In an article called "Ousted Republican reflects on Trump, democracy and America: 'The place has lost its mind'" by Ed Pilkington of The Guardian, long-time Republican Rusty Bowers reflects on his actions that led to his failure to win reelection in the GOP primary. Who is Bowers?
Per the article, "Rusty Bowers was speaker of Arizona's house of representatives when he stood up to the former president's demand that he overturn the election result. He paid the price but has no regrets.
Rusty Bowers is headed for the exit. After 18 years as an Arizona lawmaker, the past four as speaker of the state's house of representatives, he has been unceremoniously shown the door by his own Republican party.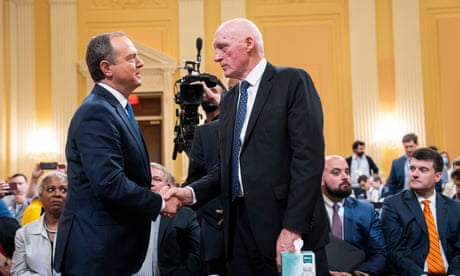 Last month he lost his bid to stay in the Arizona legislature in a primary contest in which his opponent was endorsed by Donald Trump. The rival, David Farnsworth, made an unusual pitch to voters: the 2020 presidential election had not only been stolen from Trump, he said, it was satanically snatched by the 'devil himself.'
Bowers was ousted as punishment. The Trump acolytes who over the past two years have gained control of the state's Republican party wanted revenge for the powerful testimony he gave in June to the January 6 hearings in which he revealed the pressure he was put under to overturn Arizona's election result.
This is a very Arizonan story. But it is also an American story that carries an ominous warning for the entire nation.
Six hours after the Guardian interviewed Bowers, Liz Cheney was similarly ousted in a primary for her congressional seat in Wyoming. The formerly third most powerful Republican leader in the US Congress had been punished too.
In Bowers's case, his assailants in the Arizona Republican party wanted to punish him because he had steadfastly refused to do their, and Trump's, bidding. He had declined to use his power as leader of the house to invoke an 'arcane Arizonan law' – whose text has never been found – that would allow the legislature to cast out the will of 3.4 million voters who had handed victory to Joe Biden and switch the outcome unilaterally to Trump.
Bowers has a word for that kind of thinking. 'The thought that if you don't do what we like, then we will just get rid of you and march on and do it ourselves – that to me is fascism.'"
The article goes into more detail about Bowers' long-time fealty to the Republican party. It also speaks of a man who campaigned for Donald Trump. Yet, per an attorney who worked for years for Trump before the White House, "if you are on Donald Trump's good side, don't get used to it." At some point, you won't jump high enough or genuflect low enough to suit the would-be-king acting former president.
What saddens me is to be loyal to Donald Trump requires you to believe his deceitful words and actions, even when you know they are not true. I am sure there are fans who still think every word he says is true, but I do believe that is naivete. I think far more go along with the lies because it is easier than being courageous and standing up to the lies. Plus, courage often means you are more alone in your quest, as it is a rare attribute.
https://www.theguardian.com/us-news/2022/aug/20/rusty-bowers-interview-trump-arizona-republicans